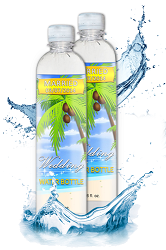 When it comes to weddings, personalization is the name of the game these days. That's why our private labeled water is being ordered for wedding events across the country. With June being the most popular month of the year for weddings, what better time to talk up the great benefits of ordering private label water bottles for you're the wedding you're planning? Here are some ideas for times to pass out your personalized wedding water bottles:
The Cocktail Hour
If your wedding has a cocktail hour, it's important to have enough water on hand for guests who either 1.) don't drink alcohol, or 2.) have a tendency to drink too much alcohol. The guests who have wine, beer and cocktails will need water to keep themselves hydrated and prevent any unwanted scenarios from occurring anyway – so why not make the water bottles you give them a memento of the event?
The Reception
Of course, everyone will want to have water at the table when dinner is served. Rather than placing a pitcher in the center of the table (this can be annoying to guests who don't know each other well and don't want to pass the pitcher around), just give them your private label water bottles instead. Everyone will appreciate that you took an extra step to make them comfortable!
The Arrival
That's right: We're talking about before the ceremony! If your wedding is on a hot summer day, this gesture will be appreciated by everyone. As long as it is permissible with your venue, why not? If the wedding is outdoors, then it is almost guaranteed to be allowed – and guests will want water even more outdoors, anyway! No matter when you choose to pass out the private labeled water bottles at your wedding, you can choose a design that personalizes them to reflect you, your fiancé and your style. This is one wedding favor everyone can use!